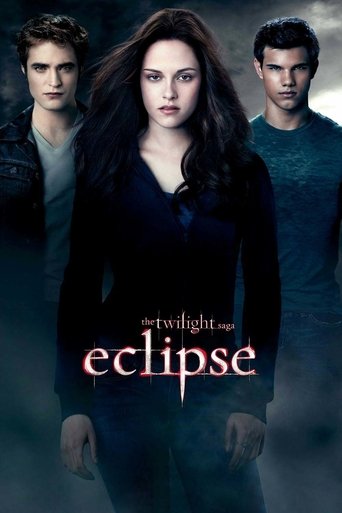 Rating: 6/10 by 4156 users
Bella once again finds herself surrounded by danger as Seattle is ravaged by a string of mysterious killings and a malicious vampire continues her quest for revenge. In the midst of it all, she is forced to choose between her love for Edward and her friendship with Jacob, knowing that her decision has the potential to ignite the ageless struggle between vampire and werewolf. With her graduation quickly approaching, Bella is confronted with the most important decision of her life.
Directing:
David Slade
Claudia Morgado
Writing:
Melissa Rosenberg
Stephenie Meyer
Stars:
Release Date: Wed, Jun 23, 2010

Rating: 6/10 by 4156 users

Alternative Title:

Country:
United States of America
Language:
English
Runtime: 02 hour 04 minutes
Budget: $68,000,000
Revenue: $698,491,347

Plot Keyword: vampire, graduation, bite, immortality, werewolf, supernatural creature, based on young adult novel

I'm a fan of Twilight. I have not read the book so I'm not really sure what happens. I didn't like New Moon that much. So I wasn't really that excited about watching this movie. I guess, I can say, I went with the flow. I wanted to be one of those people who have seen this movie. It was a holiday because of the President's inauguration. So we went to Podium because I know there will be more people in bigger theaters. Many showtimes were sold out already. So we decided to buy tickets for the last full show. We stayed and played with Toby the whole after noon and after dropping off Edward, straight to Podium. This movie was much better than New Moon. There's more action and the romance between Jacob and Bella are deeper now. More screen time for the Cullen family. The music is better than New Moon having some songs that are more alike than Twilight. I didn't like the makeup. It was not consistent and Bella's hair was the worst. My rate for this movie is B-. It was nice but nothing beats Twilight still.