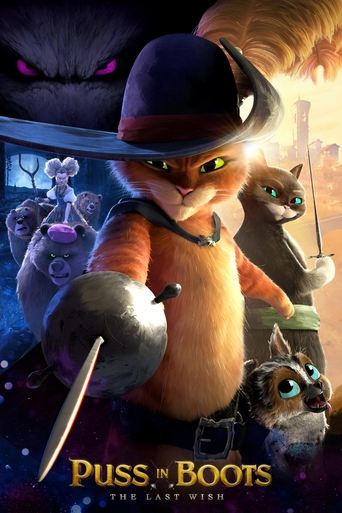 Rating: 0/10 by 0 users
Puss in Boots discovers that his passion for adventure has taken its toll: He has burned through eight of his nine lives, leaving him with only one life left. Puss sets out on an epic journey to find the mythical Last Wish and restore his nine lives.
Directing:
Joel Crawford
Januel Mercado
Writing:
Christopher Meledandri
Paul Fisher
Stars:
Release Date: Wed, Dec 07, 2022

Rating: 0/10 by 0 users

Alternative Title:
Puss in Boots 2: Nine Lives & 40 Thieves - US
Gato de Botas 2 – O Último Desejo - BR
장화 신은 고양이 2 - KR
O Gato das Botas: O Último Desejo - PT
長ぐつをはいたネコ ザ・ラスト・ウィッシュ - JP
Котаракът в чизми 2 - BG
Gato con botas: El último deseo - PE

Country:
Language:
English
Español
Runtime: 01 hour 44 minutes
Budget: $0
Revenue: $0

Plot Keyword:

No review about this movie yet!