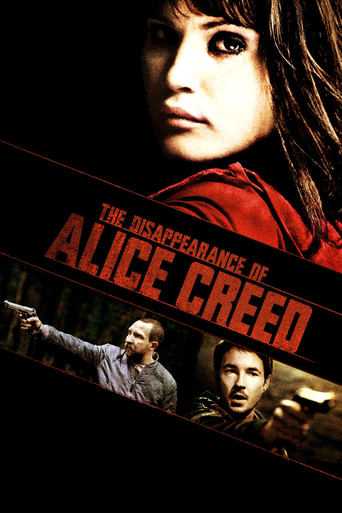 Rating: 6.6/10 by 294 users
A rich man's daughter is held captive in an abandoned apartment by two former convicts who abducted her and hold her ransom in exchange for her father's money.
Directing:
Writing:
Stars:
Release Date: Sat, Sep 12, 2009

Rating: 6.6/10 by 294 users

Alternative Title:
Uprowadzona Alice Creed - PL
La desaparición de Alice Creed - ES
La disparition d'Alice Creed - FR
Agoniodisapagogi - GR
Nestanak Alice Creed - HR
Eifo Alice? - IL
La scomparsa di Alice Creed - IT
The Disappearance of Alice Creed - GB
O Desaparecimento de Alice Creed - BR

Country:
United Kingdom
Language:
English
Runtime: 01 hour 40 minutes
Budget: $800,000
Revenue: $867,714

Plot Keyword: sex, bondage, ransom, kidnapping, father, rich

No review about this movie yet!