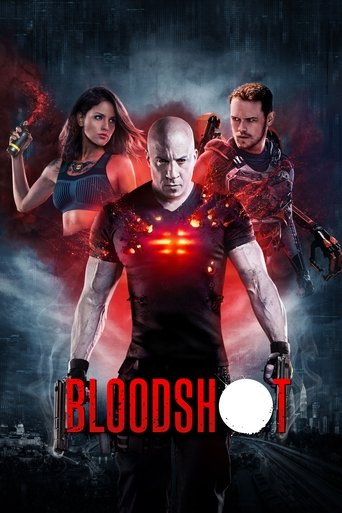 Rating: 7.3/10 by 753 users
After he and his wife are murdered, marine Ray Garrison is resurrected by a team of scientists. Enhanced with nanotechnology, he becomes a superhuman, biotech killing machine—'Bloodshot'. As Ray first trains with fellow super-soldiers, he cannot recall anything from his former life. But when his memories flood back and he remembers the man that killed both him and his wife, he breaks out of the facility to get revenge, only to discover that there's more to the conspiracy than he thought.
Directing:
Writing:
Jeff Wadlow
Jeff Wadlow
Eric Heisserer
Kevin VanHook
Bob Layton
Don Perlin
Stars:
Release Date: Thu, Feb 20, 2020

Rating: 7.3/10 by 753 users

Alternative Title:

Country:
China
United States of America
Language:
English
Runtime: 01 hour 50 minutes
Budget: $42,000,000
Revenue: $24,573,617

Plot Keyword: superhero, based on comic, psychotronic, shared universe, valiant comics

No review about this movie yet!