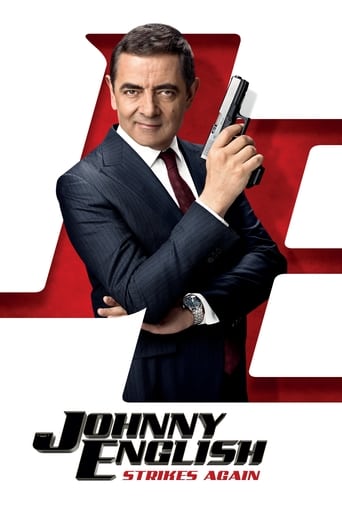 Rating: 6.2/10 by 374 users
Disaster strikes when a criminal mastermind reveals the identities of all active undercover agents in Britain. The secret service can now rely on only one man - Johnny English. Currently teaching at a minor prep school, Johnny springs back into action to find the mysterious hacker. For this mission to succeed, he'll need all of his skills - what few he has - as the man with yesterday's analogue methods faces off against tomorrow's digital technology.
Directing:
Writing:
William Davies
Neal Purvis
Robert Wade
Stars:
Release Date: Thu, Sep 13, 2018

Rating: 6.2/10 by 374 users

Alternative Title:
Johnny English 3 - FR
Johnny English 3 - ZA
ג'וני אינגליש מכה שנית - IL
Jonny English Strikes Again - IL
Агент Джонни Инглиш 3.0 - RU
Johnny English - Man lebt nur dreimal - DE

Country:
France
United States of America
United Kingdom
Language:
English
Runtime: 01 hour 29 minutes
Budget: $0
Revenue: $66

Plot Keyword: spy, slapstick, sequel, parody, action, comedy, агент, джонни, инглиш

No review about this movie yet!