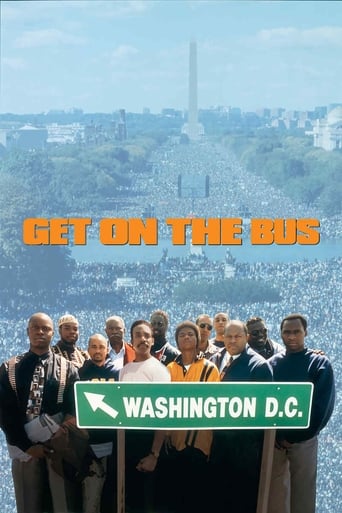 Rating: 7.5/10 by 22 users
Several Black men take a cross-country bus trip to attend the Million Man March in Washington, DC in 1995. On the bus are an eclectic set of characters including a laid-off aircraft worker, a man whose at-risk son is handcuffed to him, a black Republican, a former gangsta, a Hollywood actor, a cop who is of mixed racial background, and a white bus driver. All make the trek discussing issues surrounding the march, including manhood, religion, politics, and race.
Directing:
Writing:
Stars:
Release Date: Wed, Oct 16, 1996

Rating: 7.5/10 by 22 users

Alternative Title:

Country:
United States of America
Language:
English
Runtime: 02 hour 00 minutes
Budget: $2,400,000
Revenue: $5,731,103

Plot Keyword: washington d.c., bus, march, spike lee

No review about this movie yet!