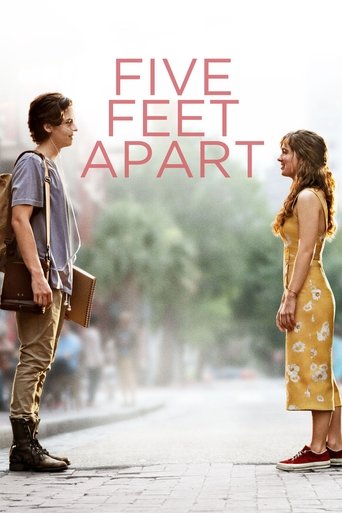 Rating: 8.2/10 by 2638 users
Seventeen-year-old Stella spends most of her time in the hospital as a cystic fibrosis patient. Her life is full of routines, boundaries and self-control — all of which get put to the test when she meets Will, an impossibly charming teen who has the same illness. There's an instant flirtation, though restrictions dictate that they must maintain a safe distance between them. As their connection intensifies, so does the temptation to throw the rules out the window and embrace that attraction.
Directing:
Writing:
Tobias Iaconis
Mikki Daughtry
Stars:
Release Date: Fri, Mar 15, 2019

Rating: 8.2/10 by 2638 users

Alternative Title:
A Cinco Passos de Você - BR
À cinq pieds de toi - CA
A dos Metros de Ti - CO
За 5 кроків до кохання - UA

Country:
United States of America
Language:
English
Français
Runtime: 01 hour 56 minutes
Budget: $5,000,000
Revenue: $0

Plot Keyword: forbidden love, falling in love, cystic fibrosis, star crossed lovers, true love

No review about this movie yet!