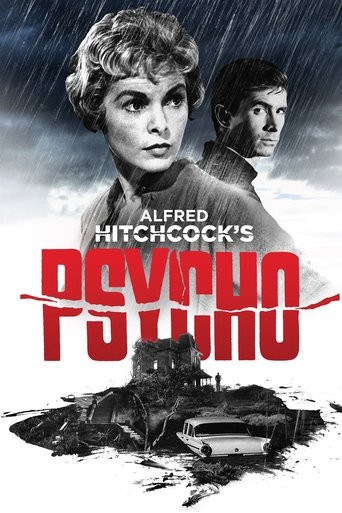 Rating: 8.4/10 by 6489 users
When larcenous real estate clerk Marion Crane goes on the lam with a wad of cash and hopes of starting a new life, she ends up at the notorious Bates Motel, where manager Norman Bates cares for his housebound mother.
Directing:
Alfred Hitchcock
Hilton A. Green
Lester Wm. Berke
Writing:
Robert Bloch
Joseph Stefano
Stars:
Release Date: Wed, Jun 22, 1960

Rating: 8.4/10 by 6489 users

Alternative Title:
Psicosi - AD
Psicosis - AR
Psychose - BE
Психо - BG
Psicose - BR
Psicosis - ES
Ψυχώ - GR
Psiho - HR
싸이코 - KR
Psichopatas - LT
Psychoza - PL
Psico - PT
Психоз - RU
Sapik - TR

Country:
United States of America
Language:
English
Runtime: 01 hour 49 minutes
Budget: $806,948
Revenue: $32,000,000

Plot Keyword: hotel, clerk, arizona, shower, rain, motel, taxidermy, money, secretary, corpse, murderer, theft, private detective, proto-slasher

Required viewing. _Final rating:★★★½ - I really liked it. Would strongly recommend you give it your time._
"We all go a little mad sometimes. Haven't you?" A Phoenix secretary, Marion Crane (Janet Leigh), embezzles $40,000 and rashly flees town, ending up at a remote motel in Fairvale, California, where she encounters the eccentric Mama's boy Norman Bates (Anthony Perkins). Mixed into this web is a private investigator (Martin Balsam), Marion's sister (Vera Miles) and Marion's secret beau (John Gavin). Directed by Alfred Hitchcock based on Robert Bloch's book, "Psycho" made a huge impact when it was released in 1960. It contains a plot development that was groundbreaking at the time shared by England's "City of the Dead" (aka "Horror Hotel"), which went into production six weeks earlier than "Psycho" and was released in the UK at the same time, but not in America until 2 years later. While they're both good, "Psycho" is way superior. It was followed by three sequels (1983, 1986 and 1990), the last being a semi-prequel, all starring Anthony Perkins as Norman with Vera Miles returning for the first one. One thing I don't like is that it was shot in B&W. Check out the sequels and the 1998 remake to observe the same settings in living color. The film runs 1 hour, 49 minutes and was shot primarily at the backlot of Universal Studios, Universal City, California, with other parts in Los Angeles & Gorman, California, and Phoenix, Arizona. GRADE: A
My most favourite film from the master of suspense. This psychological horror is widely considered to be the first ever slasher film. Powered by great performances from Anthony Perkins & Janet Leigh, and the outstanding score by Bernard Herrmann which adds such great tension throughout the film, it is unarguably the greatest thriller ever made. Only Alfred Hitchcock could make a film so entertaining and so horrifying at the same time. The climax continues to haunt me forever.