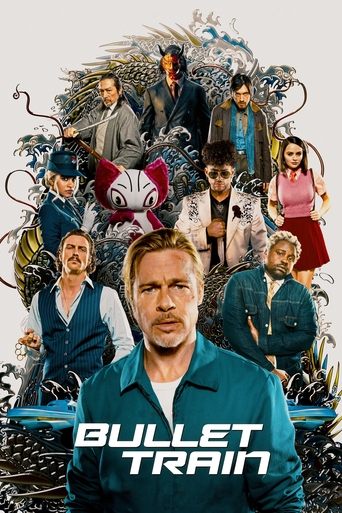 Rating: 7.353/10 by 211 users
Unlucky assassin Ladybug is determined to do his job peacefully after one too many gigs gone off the rails. Fate, however, may have other plans, as Ladybug's latest mission puts him on a collision course with lethal adversaries from around the globe—all with connected, yet conflicting, objectives—on the world's fastest train.
Directing:
Writing:
Kotaro Isaka
Zak Olkewicz
Stars:
Release Date: Sun, Jul 03, 2022

Rating: 7.353/10 by 211 users

Alternative Title:
子彈列車 - TW
新干线 - CN
杀手疾风号 - CN
Швидкісний потяг - UA
Sát Thủ Đối Đầu - VN
弾丸列車 - JP
Скоростной поезд - RU
बुलेट ट्रेन - IN
Быстрее пули - RU

Country:
United States of America
Language:
日本語
Español
Pусский
English
Runtime: 02 hour 07 minutes
Budget: $85,900,000
Revenue: $68,000,000

Plot Keyword: assassin, based on novel or book, mission, train

FULL SPOILER-FREE REVIEW @ https://www.msbreviews.com/movie-reviews/bullet-train-spoiler-free-review "Bullet Train employs David Leitch's maximalist style in a purposefully silly narrative driven by frenetic action and distinct humor. Although it doesn't stray from the familiar formulas and doesn't leave viewers blown away by never-before-seen action sequences, the execution of all the intended cinematic moments is more than satisfying, resulting in a couple of hours full of entertainment. The exceptional cast is worth the ticket, and every second with Aaron Taylor-Johnson and Brian Tyree Henry is genuinely hilarious. Brad Pitt shines as well. Despite visual effects, script, and character development all traveling in economy class, it would be a "crime" not to recommend this trip." Rating: B
I first got an extended look at "Bullet Train" during Cinemacon when a reel of the film was shown during the Sony showcase to an enthusiastic crowd. The footage mixed action and humor with quirky and dysfunctional characters and became a must-see film for me based on the teased footage. The film is based on a book by Kotaro Isaka and stars Brad Pitt as an operative named Ladybug. He is called at the last minute as a replacement and given instructions to board a Bullet Train and snatch a case in one of the passenger areas before exiting at the next station. Having gone through a recent crisis, Ladybug is awash in various philosophical and new age ideas as he attempts to find his inner peace and a new path in life, as such he does not take a gun with him when he boards despite being instructed to do so by his handler. The train is filled with various killers and dangerous people who are there to accomplish various goals and most of whom fail frequently in violent and hysterical manners which further complicate their agendas as well as that of the others and often puts them into conflict with one another as the story unfolds. It would be difficult to go into further detail on the various characters without spoiling some of the reveals and twists along the way but suffice it to say that Aaron Taylor-Johnson and Brian Tyree Henry as Tangerine and Lemon are great and their banter, as well as capers, is a frequent highlight. There are some surprise cameos in the film which add to the fun and Joey King is as great as perhaps one of the more complicated characters in the film. Pitt is clearly the star but the film allows him as well as his supporting cast plenty of moments to shine and the humor flies fast and frequent as does the action which creates a very engaging and stylistic hybrid of western and Asian cinema. The film does drag slightly late before leading to the finale but thanks to the great cast and action it comes through in the end. Director David Leitch has worked on films such as "Deadpool 2", "Atomic Blonde", and "John Wick: and you can see that he has a knack for directing action and comedy as this is a very fun and engaging film that has some great action and humor and one that you will not want to miss. 4 stars out of 5.
Such a blast! Personally, I wasn't expecting much from 'Bullet Train' at all. The (most overplayed) trailer didn't fill with me with much interest and I thought the bullet train aspect would be gimmicky and perhaps even too limiting. However, to my surprise it's the exact opposite to all that. It's supremely entertaining and very amusing! I love the whole style of the film, the editing is top notch. the bloody visuals are class and the music is superbly chosen - every track hits. Then you also have an excellent cast. I thought, again based on the trailer(s) that I saw, it would be a run-of-the-mill Brad Pitt feature, but his performance is terrific throughout. Aaron Taylor-Johnson and Brian Tyree Henry are a quality double act, I thought their accents and dynamic would get tiresome but if anything I enjoyed them the more I saw them - funny guys! Joey King was the only character I wasn't sold on during the film, though by the end I dug her performance too. Andrew Koji and Hiroyuki Sanada are also very good, while Michael Shannon, Benito A. Martínez Ocasio (aka Bad Bunny) and Zazie Beetz are welcomed cast members as well. There are also a few other noteworthy people involved, including two that Pitt knows well from a different 2022 flick. Seriously, what a cast! If I had to mention one gripe, it would be the run time/pacing - this is me nit-picking, though at like one or two (no more than that) moments I did feel like it wasn't paced incredibly. Again, no biggie though. All in all, I most definitely had a great time with this and would certainly recommend it.* *still, if you want an even greater film set entirely on a train then you gotta check out the outstanding 'Source Code' - one of my favourites!