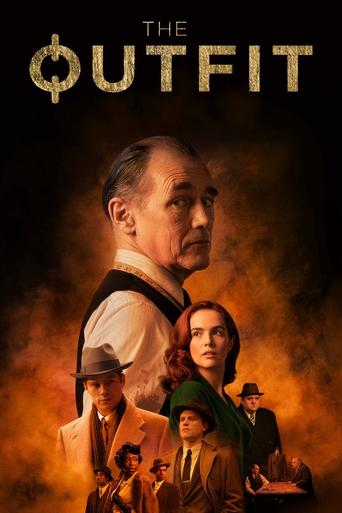 Rating: 7/10 by 214 users
Leonard is an English tailor who used to craft suits on London's world-famous Savile Row. After a personal tragedy, he's ended up in Chicago, operating a small tailor shop in a rough part of town where he makes beautiful clothes for the only people around who can afford them: a family of vicious gangsters.
Directing:
Writing:
Graham Moore
Johnathan McClain
Stars:
Release Date: Fri, Feb 25, 2022

Rating: 7/10 by 214 users

Alternative Title:
La Tenue - FR
El sastre de la mafia - ES
더 아웃핏 - KR
誓不低头 - CN

Country:
United Kingdom
United States of America
Language:
English
Runtime: 01 hour 45 minutes
Budget: $0
Revenue: $3,186,865

Plot Keyword: chicago, illinois, murder, organized crime, mobster, killer, double cross, tailor, one night, 1950s, single-set, gangsters

Whatta film! 'The Outfit' is excellent. Second time in roughly three weeks that I've had the pleasure of seeing a Mark Rylance flick on the big screen and again he delivers - such a reliable actor. The other release was 'The Phantom of the Open', which is very good but both the film and Rylance's performance is bettered here. A thoroughly enjoyable showing from him as Leonard Burling. Things start off extremely strongly with a terrific opening scene with Rylance's Burling, so I was praying that it would keep that high level and I'm pleased to say that - in my opinion, of course - it absolutely did. There's a bit at the end that I was initially unsure about, though upon further thought I enjoyed it just as much as the rest. One element of this 2022 production actually stays the same from start-to-finish, I won't say what but early on I thought it may limit proceedings but if anything it just adds to the overall vibe of it all. The support cast, meanwhile, are all faces I didn't know before now, though every one of them give good performances - standouts being Johnny Flynn and Nikki Amuka-Bird.
I will give any production with Mark Ryland in it a try, ever since I first noticed him in Wolf Hall. I enjoyed this film, with its taut script, realistic dialogue and several plot twists, which I won't even mention for fear of giving things away. This movie manages to be a noir piece, even though it doesn't venture out into the dark and moody streets of Chicago. It is a set piece, taking place in one man's tailor shop. I wonder if a theatrical production on Broadway is inevitable? There are plenty of bad guys to be found here, but with enough shading of humanity as to make us root for a few of them over the others. But the script doesn't care who you root for — the plot is the plot and it will runs its headlong course and draw us along with it. Despite the periodic outbursts of violence, this is more a drama than a thriller. It reminds me of what Hitchcock is supposed to have said. Suspense isn't a bomb exploding but rather it is wondering if it will go off. Of course, in thrillers, if you have a bomb, it must explode at some point. This movie isn't that predictable. The Outfit isn't just a drama; it is a character study, and Ryland's character bears up well under the plot's scrutiny.