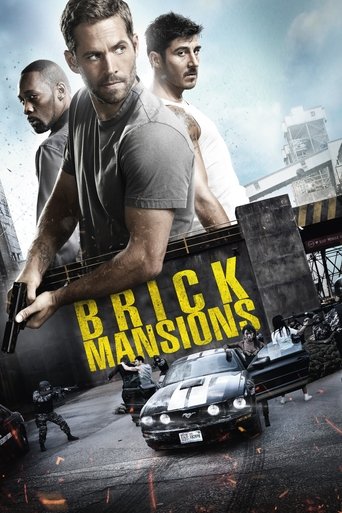 Rating: 5.9/10 by 948 users
In a dystopian Detroit, grand houses that once housed the wealthy are now homes of the city's most-dangerous criminals. Surrounding the area is a giant wall to keep the rest of Detroit safe. For undercover cop Damien Collier, every day is a battle against corruption as he struggles to bring his father's killer, Tremaine, to justice. Meanwhile, Damien and an ex-con named Lino work together to save the city from a plot to destroy it.
Directing:
Camille Delamarre
Elizabeth Tremblay
Pierre Magny
Stéphane Moreno Carpio
Writing:
Luc Besson
Robert Mark Kamen
Stars:
Release Date: Tue, Apr 22, 2014

Rating: 5.9/10 by 948 users

Alternative Title:
玩命特区 - CN
暴力禁区 - CN
Brick Mansions (La Fortaleza) - ES
Doupě - CZ
브릭맨션 - 통제불능 범죄구역 - KR
La fortaleza prohibida - MX
La fortaleza prohibida - ES
La fortaleza prohibida - US

Country:
Canada
France
Language:
English
Runtime: 01 hour 30 minutes
Budget: $28,000,000
Revenue: $68,896,829

Plot Keyword: martial arts, atomic bomb, ghetto, gangster, parkour, cop, sequel, undercover cop, violence, fighting, hand to hand combat

No review about this movie yet!