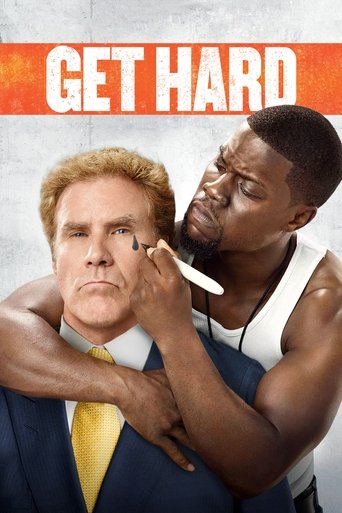 Rating: 6/10 by 2543 users
When obscenely rich hedge-fund manager James is convicted of fraud and sentenced to a stretch in San Quentin, the judge gives him one month to get his affairs in order. Knowing that he won't survive more than a few minutes in prison on his own, James desperately turns to Darnell-- a black businessman who's never even had a parking ticket -- for help. As Darnell puts James through the wringer, both learn that they were wrong about many things, including each other.
Directing:
Etan Cohen
Richard Cowan
Cate Hardman
Scott August
Gregory S. Carr
Writing:
Ian Roberts
Ian Roberts
Etan Cohen
Adam McKay
Jay Martel
Jay Martel
Stars:
Release Date: Thu, Mar 26, 2015

Rating: 6/10 by 2543 users

Alternative Title:
Prison 101 - CA
O Durão - BR
獄前教育 - TW
Get Hard - EC - AU
30 días para ir a la cárcel - MX
Sert Ol - TR
30 días para ir a la cárcel - CL
Dale Duro - ES
ゲットハード/Get Hard - JP
ゲットハード/Get Hard - JP
ゲットハード - JP

Country:
United States of America
Language:
English
Runtime: 01 hour 40 minutes
Budget: $40,000,000
Revenue: $111,811,453

Plot Keyword: prison, training, framed, embezzlement

> An old concept with a new pair. First of all I don't wanna compare it with any movie like the others did. Many reviews bashing that it was rip-off of 'Big Stan'. Yes kind of similar theme, but there's a lot of difference. The concept was the same and the story happens in an alternate way like 'what if'. That means one takes place outside the prison and the other one in the prison. If you're a movie fanatic, you would enjoy the show other than going after flaws and resemblance. I had seen many weird combos, and I felt same feeling for this Will Ferrell and Kevin Hart, when I first heard about it. Like usual, once I watched the movie seem to be okay. Quite a show and equally good, one of the funniest combinations to entertain. I had a few good laughs and enjoyed the film. I would love to get a sequel for this, because these men coming together are double fun. So it should not be wasted ending with a one-off movie, but at least a duology or maybe a trilogy. Gosh, my crazy thought and expectation! 6.5/10
Pretty funny movie. Two of the most funniest people around. The movie was just your average type comedy movie but worth to see it at least once.