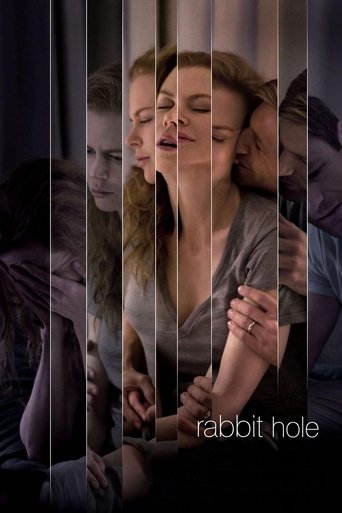 Rating: 6.8/10 by 403 users
Life for a happy couple is turned upside down after their young son dies in an accident.
Directing:
Writing:
Stars:
Release Date: Thu, Dec 16, 2010

Rating: 6.8/10 by 403 users

Alternative Title:
Reencontrando a Felicidade - BR
Engedd el! - HU
Miedzy swiatami - PL
Apoleia - GR
Los Secretos del Corazón - ES
Rabbit Hole - Neue Wege - DE
لانه خرگوش - IR
O Outro Lado do Coração - PT

Country:
United States of America
Language:
English
Runtime: 01 hour 31 minutes
Budget: $5,000,000
Revenue: $5,132,850

Plot Keyword: loss of loved one, trauma, marriage, grief, memory, crying, parking lot, therapy, car seat

No review about this movie yet!