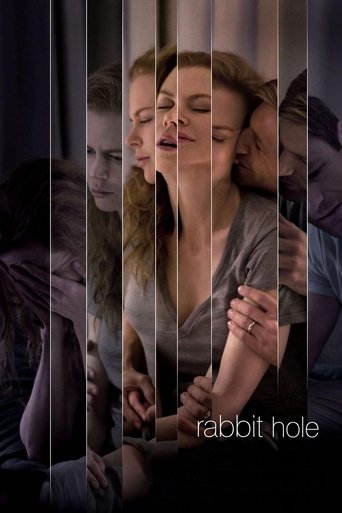 Rating: 6.685/10 by 547 users
Life for a happy couple is turned upside down after their young son dies in an accident.
Directing:
John Cameron Mitchell
Neil Daly
David McWhirter
Karen Kane
Thomas K. Lee
Patrick Huber
Tom Tobin
Writing:
David Lindsay-Abaire
David Lindsay-Abaire
Stars:
Release Date: Thu, Dec 16, 2010

Rating: 6.685/10 by 547 users

Alternative Title:
Reencontrando a Felicidade - BR
Engedd el! - HU
Miedzy swiatami - PL
Apoleia - GR
Los Secretos del Corazón - ES
Rabbit Hole - Neue Wege - DE
لانه خرگوش - IR
O Outro Lado do Coração - PT

Country:
United States of America
Language:
English
Runtime: 01 hour 31 minutes
Budget: $5,000,000
Revenue: $5,144,717

Plot Keyword: loss of loved one, support group, trauma, marriage, based on play or musical, grief, memory, crying, parking lot, therapy, car seat, death of a child

**A frankly well-made film, but very painful to watch and highly contraindicated for the most sensitive and grieving people.** I cannot conceive of a pain stronger than that which a father or mother can feel when having to bury a child. No matter the causes of death, it must be as if the World, God or Fate, whatever, took away a part of us that we couldn't live without. I have to confess, honorable reader, that I have never been in a comparable situation. I can only imagine, and I honestly don't want to go through that, nor do I wish that on anyone. I am still young, and the closest person I saw go was a loving grandfather, whose memory is still with me. I suffered with that loss, and that certainty of never seeing him again, but I faced it peacefully, after all, none of us live forever and the elders leave first… it's the nature of things. This film addresses, precisely, the mourning of a child and the way in which the parents, each in their own way, live this pain and try to find ways to digest it. The world and society almost force us to overcome this after a certain moment, and return to normality. But what normality? There will be "normality" for a parent after something like this? These are questions that deserve reflection and that the film leaves open. We see that couple look at things differently: the father want to keep their son's memory, wants to feel surrounded by his things and touch his objects as if a portion of his son were inside them; the mother prefers to get rid of that objects and even move, in an effort to go forward where anger and frustration are vented on a lot of people around her. To what extent is it pain, not love, that unites them as a couple? For all this, I need to leave a note of warning, advising this film for people who have lost someone and are going through a grieving, or for people with depression or who are more negative. It's not an easy movie, it's one of those movies that squeezes where it hurts the most. It is based on a play that Nicole Kidman had the good idea of ​​taking to the cinema, and the script is by the same author of the play. Kidman brought the lead role to life with great skill, in a deeply psychological work, full of commitment and awarded with a nomination for an Oscar. Aaron Eckhart brought the heartbroken father to life in a poignant, heartfelt way, in one of the actor's most interesting works. The film also has the frankly positive collaboration of Sandra Oh, Tammy Blanchard, Diane West and Miles Teller. The production wisely decided not to bet too much on big technical resources, giving the story and the cast's performance all the space needed to shine. Even so, I wanted to leave a note of praise for the cinematography, with a good shooting work, low contrast, a palette of cold or pastel colors and a very well done editing, which gave the film a slower pace that seems to be perfectly adequate. Without flashy visuals and sound, everything is elegant and discrete. The set of the couple's house is perhaps the most relevant, with the large, empty and almost impersonal spaces being, in practice, the mirror of a family that no longer exists, and of an increasingly distant couple.