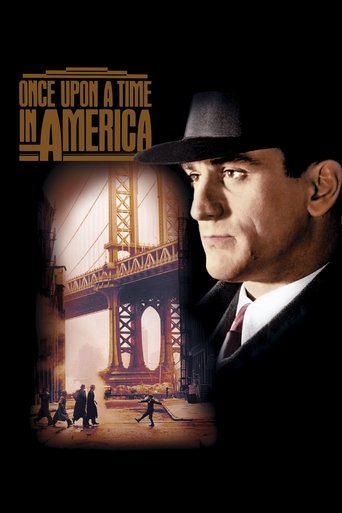 Rating: 8.4/10 by 2962 users
A former Prohibition-era Jewish gangster returns to the Lower East Side of Manhattan over thirty years later, where he once again must confront the ghosts and regrets of his old life.
Directing:
Sergio Leone
Philippe Landoulsi
Dennis T. Benatar
Luca Morsella
Fabrizio Sergenti Castellani
Amy Wells
Writing:
Sergio Leone
Franco Ferrini
Leonardo Benvenuti
Franco Arcalli
Enrico Medioli
Ernesto Gastaldi
Piero De Bernardi
Harry Grey
Stars:
Release Date: Wed, May 23, 1984

Rating: 8.4/10 by 2962 users

Alternative Title:
Once Upon A Time In America - DC - AU
Der var engang i Amerika - DK
원스 어폰 어 타임 인 아메리카 - KR
Het Gebeurde in Amerika - NL
Однажды в Америке - RU
美國往事 - TW

Country:
United States of America
Italy
Language:
Français
English
Italiano
Runtime: 03 hour 49 minutes
Budget: $20,000,000
Revenue: $5,300,000

Plot Keyword: new york city, life and death, corruption, street gang, rape, sadistic, lovesickness, sexual abuse, regret, prohibition era, money laundering, opium, gangster, mafia boss, murder, memory, torture, brooklyn bridge, childhood friends, 1920s, 1960s, 1930s

Stereotypical Sergio Leone film with endless waitings and sight crossings. One of the performances that made Robert de Niro de actor he is and an interesting way of telling a story and the evolution of America during the years of the alcohol prohibition.