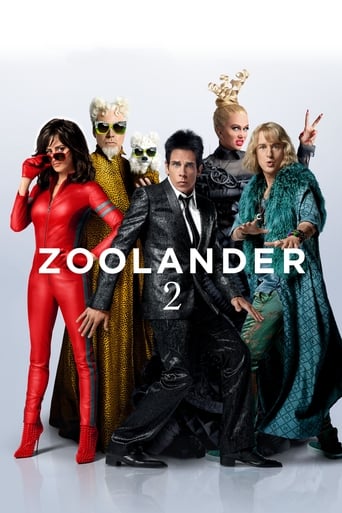 Rating: 4.843/10 by 1891 users
Derek and Hansel are modelling again when an opposing company attempts to take them out from the business.
Directing:
Ben Stiller
David H. Venghaus Jr.
Edoardo Petti
Kim Berner
Writing:
Justin Theroux
Ben Stiller
Ben Stiller
John Hamburg
Nicholas Stoller
Drake Sather
Stars:
Release Date: Sat, Feb 06, 2016

Rating: 4.843/10 by 1891 users

Alternative Title:
쥬랜더 2 - KR
Zoolander No. 2 - US

Country:
United States of America
Language:
English
Runtime: 01 hour 40 minutes
Budget: $50,000,000
Revenue: $56,700,000

Plot Keyword: fashion designer, sequel, fashion, male model, fashion show, modeling, fashion model, silly comedy, fashionista, runway model

> An unnecessary follow up! Foolander! Everything I wrote was just my personal opinion, definitely not intended to offend anybody. Ben Stiller is a good actor, but a fine filmmaker, His directional ventures were awesome, especially after his last film 'Walter Mitty' the expectation was very high on this, but I did not think it'll end like this. It hits the rock bottom, the lowest point in his directional career. His odd film experiment had failed, just for one project and I know he will come back strong. But as an actor, he still got the star value and I'm looking forward for his upcoming project. It has been 15 years since the original film and I don't remember much of it. But before this, I had a very quick re-view, so I'm to get a clean flow for a better understanding. Anyway, the film gave a brief report about the past events in the beginning, but when I saw the first face in the opening scene I knew it will going to suck and it did. Okay, the first, the story was decent, but not the jokes. And the next, there are too many cameos that kind of ruined its pace to keep quiet for sometime and to focus on actual story development. From all those, the best part and where I actually had a brief laugh was to see Neil deGrasse Tyson. The second films are always very crucial, because it is a bridge between the original film and numerous follow-ups to set up a franchise status. So clearly this film stumbled and I don't think there will be any more films in this series. The original 'Zoolander' had its own brand appeal, but with this bad film it got lost. The production was very good and so the performances, but the humours were average. No offense, there are some people who still liked it, but I did not, so I won't recommend it for the 'Zoolander' fans as well as if you're looking for a good comedy. But like I always say who knows you might like it, so think twice in which one is if you're reading this review and the second is analyse it before to decide anything. 3/10
ZOOLANDER 2 is the follow-up to the 2001 comedy that originally tanked at the box office due to its release just after September 11, but then became a pop culture phenomenon once it was released on home video. We again meet male fashion model Derek Zoolander (Ben Stiller) and his former rival Hansel (Owen Wilson), but both have lived in seclusion for years due to a tragedy that strikes just after the events of the first film. They are drawn back into the world of fashion when they receive an invitation from designer Don Atari (Kyle Mooney) and fashion mogul Alexanya Atoz (Kristen Wiig), but they are perplexed by the changed fashion and social mores of 15 years later, and the fashion world treats them like veritable dinosaurs. Will Ferrell's villain Jacobim Mugatu returns, and the plot is again driven by a conspiracy to commit a heinous crime, which Zoolander and Hansel must thwart with the help of an agent, played by Penelope Cruz, from Interpol's fashion police (fashion police, get it?). This sequel was savaged by critics, and sadly I have to concur with that judgment. The film's problems are legion. For one, this is one of those sequels that thinks that any gag that was funny in the first film has to be repeated almost verbatim here. But this time, those gags just fall flat. The Zoolander story is too aware of itself as a phenomenon to have the underdog charm and quirky originality of the original 2001 film. The pacing is badly thought out; the unfunny exposition takes so long that the real meat of this comedy has to be compressed into so few minutes that ultimately, it's over almost as soon as it started. And then there are the utterly pointless cameos: Katy Perry and Neil deGrasse Tyson are brought onscreen with absolutely no relevance to the events that are transpiring, and audiences are just supposed to laugh at seeing them? Bizarre. There are some nice parts here. I think Kyle Mooney is one of the most interesting and versatile comedians working at the moment, and his part here as a tiresomely ironic hipster ("You guys suck, I love you!") had some laugh out loud moments. To play Mugatu, Will Ferrel again gives an over-the-top performance that you could tell he had put a lot of thought and effort into, and it's so sad that his part was essentially relegated to a minor one in the end. But as I laughed at the good bits here, I kept wishing they could somehow be extracted from this film and placed instead into a much better one. Overall, this is probably worth avoiding even if you enjoyed the the 2001 film.