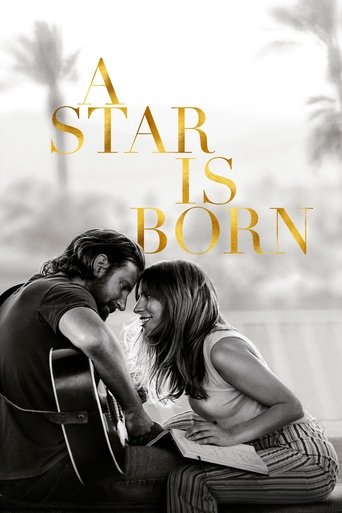 Rating: 7.4/10 by 2093 users
Seasoned musician Jackson Maine discovers—and falls in love with—struggling artist Ally. She has just about given up on her dream to make it big as a singer—until Jack coaxes her into the spotlight. But even as Ally's career takes off, the personal side of their relationship is breaking down, as Jack fights an ongoing battle with his own internal demons.
Directing:
Writing:
Bradley Cooper
Will Fetters
Eric Roth
William A. Wellman
Robert Carson
Moss Hart
John Gregory Dunne
Joan Didion
Frank Pierson
Stars:
Release Date: Wed, Oct 03, 2018

Rating: 7.4/10 by 2093 users

Alternative Title:
스타 탄생 - KR
Nace una Estrella - CL

Country:
United States of America
Language:
English
Runtime: 02 hour 15 minutes
Budget: $36,000,000
Revenue: $364,688,597

Plot Keyword: country music, waitress, self-destruction, talent, pop star, concert, addiction, alcoholism, remake, death of father, aspiring singer, singer, fame, tinnitus, falling in love, insecurity, alcoholic, death of mother, aspiration, death of parent, showbiz, emotional vulnerability, hearing impaired, brother brother relationship

It feels silly to even qualify this one. LADY GAGA. BRADLEY COOPER (who can sing and direct, apparently). You don't even need to have any info about the plot to know that this a priority must-see. But, in case you're wondering, it's also based on one of the most iconic (and beloved) movie musicals of the 20th century (it's been re-made a bunch of times, but none was better than the Judy Garland-helmed version) and in addition to all the Gaga-Cooper creative brilliance, the screenplay is also co-written by Eric Roth, the Oscar-winning screenwriter who once compared life to a box of chocolates in Forest Gump (he modified the novel's original — and far less quotable — line, "Being an idiot is no box of chocolates")
Very interesting. As soon as I saw the trailer, I wanted to see it. I work in the professional cv services, and through the big traffic there is no time for going to the cinema, so I will wait for the film to appear in good quality on the Internet. But the trailer is exciting. Everything I love: romance, love and music!