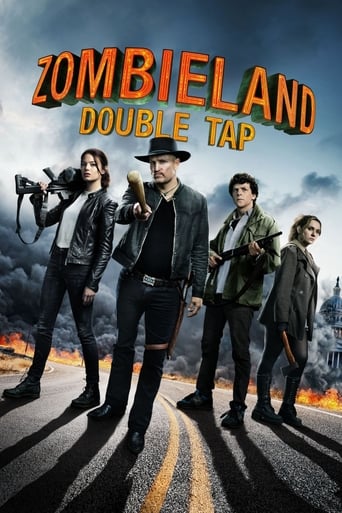 Rating: 7.6/10 by 19 users
The group will face a new zombie threat as a new breed of zombie has developed. This new super-zombie type is faster, bigger, and stronger than the previous strain of zombies and harder to kill. These super-zombies have started grouping up into a horde going from city to city leaving a path of destruction behind them.
Directing:
Writing:
Rhett Reese
Dave Callaham
Paul Wernick
Stars:
Release Date: Wed, Oct 09, 2019

Rating: 7.6/10 by 19 users

Alternative Title:
Zombieland 2: Rána jistoty - CZ
Zombieland 2 - Doppelt hält besser - DE
Bienvenue à Zombieland 2 - FR
좀비랜드 2 - KR
Zombieland: Tiro de gracia - MX
Zombieland 2: Double Tap - NL
Добро пожаловать в Zомбилэнд 2 - RU
Вітаємо у Зомбіленді 2 - UA
Zombieland 2 - US
Zombieland 2: Double Tap - US

Country:
United States of America
Language:
English
Runtime: 01 hour 33 minutes
Budget: $0
Revenue: $0

Plot Keyword:

No review about this movie yet!