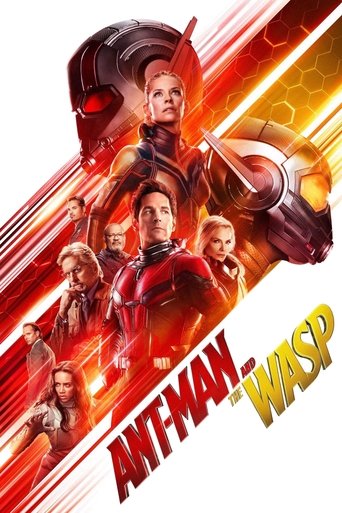 Rating: 6.9/10 by 2876 users
Just when his time under house arrest is about to end, Scott Lang puts again his freedom at risk to help Hope van Dyne and Dr. Hank Pym dive into the quantum realm and try to accomplish, against time and any chance of success, a very dangerous rescue mission.
Directing:
Peyton Reed
Hajar Mainl
Hannah Myvanwy Driscoll
Karen M. Cantley
Robin Meyers
Writing:
Chris McKenna
Erik Sommers
Andrew Barrer
Gabriel Ferrari
Paul Rudd
Stan Lee
Larry Lieber
Jack Kirby
Stars:
Release Date: Wed, Jul 04, 2018

Rating: 6.9/10 by 2876 users

Alternative Title:
Ant-Man 2 - US
Omul Furnica si Viespea - RO
Hombre Hormiga y Avispa - MX
Homem-Formiga e a Vespa - BR

Country:
United States of America
Language:
English
Runtime: 01 hour 59 minutes
Budget: $140,000,000
Revenue: $622,379,576

Plot Keyword: sequel, superhero, based on comic, ants, aftercreditsstinger, duringcreditsstinger, marvel cinematic universe

It's fun to see big stuff get real little and little stuff get real big, but _Ant-Man and the Wasp_ suffers the same problems of its predecessor, except this time with an added issue, one that effects many movies (and even more TV shows), the problem of "The entire movie didn't have to happen if people would just have had normal human conversations with one another". _Final rating:★★★ - I liked it. Would personally recommend you give it a go._
Actually quite good! It's like a less-weird, but more fun version of a Deadpool - in the sense that it is both filled with action but also with fun acting. I recommend it for a Saturday evening. It is quite wholesome.