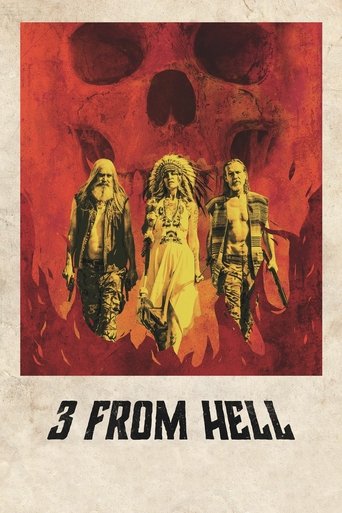 Rating: 6.6/10 by 40 users
After barely surviving a furious shootout with the police, Baby Firefly, Otis Driftwood and Captain Spaulding are behind bars. But pure evil cannot be contained. Teaming up with Otis' half-brother Wilson, the demented Firefly clan escape to unleash a whole new wave of murder, madness and mayhem.
Directing:
Writing:
Stars:
Release Date: Thu, Sep 26, 2019

Rating: 6.6/10 by 40 users

Alternative Title:
House of 1,000 Corpses 3 - 3 from Hell - CA
Three From Hell - US

Country:
United States of America
Language:
English
Runtime: 01 hour 51 minutes
Budget: $3,000,000
Revenue: $0

Plot Keyword: prisoner, clown, sadism, sequel, profanity, murder, violence, death, firefly, villains, rejects

No review about this movie yet!