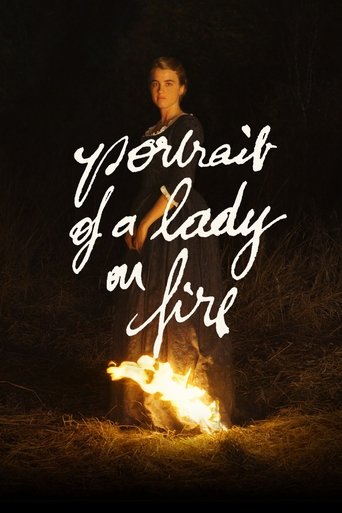 Rating: 8.3/10 by 436 users
On an isolated island in Brittany at the end of the eighteenth century, a female painter is obliged to paint a wedding portrait of a young woman.
Directing:
Céline Sciamma
Cécile Rodolakis
Delphine Daull
Anaïs Couette
Luca Zentillin
Writing:
Stars:
Release Date: Mon, Jun 17, 2019

Rating: 8.3/10 by 436 users

Alternative Title:
Retrato de uma Jovem em Chamas - BR
火吻女孩的肖像 - CN
燃烧的女子肖像 - CN
Porträt einer jungen Frau in Flammen - DE
Portrait of a Lady on Fire - GR
浴火的少女画像 - HK
타오르는 여인의 초상 - KR
燃烧女子的画像 - MO
Portrait de la jeune fille en feu - NL
Portrett av en kvinne i flammer - NO
Портрет девушки в огне - RU
Portrait of the Girl on Fire - US

Country:
France
Language:
Italiano
Français
Runtime: 02 hour 02 minutes
Budget: $0
Revenue: $0

Plot Keyword: painter, island, 18th century, woman director, lesbian romance

As the credits began to roll on 'Portrait of a Lady on Fire', I was practically incapable of moving or speaking. Every time I didn't think the film could possibly get any better, Céline Sciamma elevated it to even greater, more incomprehensible heights, culminating in one of the most extraordinary moments in 21st-century cinema. This is a rare and precious film, breathtaking in its craft and intensely honest in its passions. This is a film that aches, that longs, that dances in ecstasy and raises its hands to the sky, angelic and ferocious and perfect. Simply put, 'Portrait of a Lady on Fire' is a masterpiece, and one of the best films of this or any year. - Daniel Lammin Read Daniel's full article... https://www.maketheswitch.com.au/article/review-portrait-of-a-lady-on-fire-a-perfect-film-on-the-language-of-desire
The best LGBT movie ever. And that's on period luv.
Céline Sciamma, writer and director of "Portrait of a Lady on Fire," calls her period film a "manifesto on the male gaze." This is the most accurate, elegant description of her story of a romance between two French women in the late 1700s. This is an impeccably detailed, beautifully acted, refined drama with a strong feminist angle that's as stirring as it is thought-provoking. Marianne (Noémie Merlant) is commissioned to paint the wedding portrait of Héloïse (Adèle Haenel), a young woman who has just left the convent. Because Héloïse is a very reluctant bride-to-be, Marianne arrives under the guise of companionship, observing the smallest of details about the woman by day and secretly painting her by firelight at night. As the two women spend their days with one another, intimacy and attraction grow, and the portrait becomes a symbol of the intensity of their love. The lead performances are mannered and structured in the most effective way. The strong desire between the two women is manifested in a gaze or careful examination of a wisp of hair or the way Héloïse crosses her hands. There's a quiet intensity to the emotional and physical intimacy between these two women, making this love story's end feel all the more heartbreaking. This is mostly an all-female film, and the men briefly seen on screen play little importance. Rounding out the characters are Héloïse's mother (Valeria Golino) and housekeeper Sophie (Luàna Bajrami), who both fill critical roles in the story as the film explores issues affecting women at the time, including arranged marriages, career expectations, and health concerns. The film itself is absolutely stunning, with gorgeously romantic and lush cinematography by Claire Mathon setting a sensual tone that complements the story. The artistry is outstanding, making "Portrait of a Lady on Fire" one of the most powerful, intellectual dramas of the year.