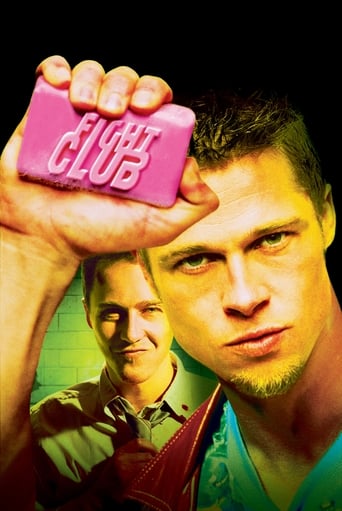 Rating: 8.4/10 by 19560 users
A ticking-time-bomb insomniac and a slippery soap salesman channel primal male aggression into a shocking new form of therapy. Their concept catches on, with underground "fight clubs" forming in every town, until an eccentric gets in the way and ignites an out-of-control spiral toward oblivion.
Directing:
David Fincher
Dina Waxman
Allen Kupetsky
Bob Wagner
Writing:
Stars:
Release Date: Fri, Oct 15, 1999

Rating: 8.4/10 by 19560 users

Alternative Title:
Boen klub - BG
Clube da Luta - BR
Kláb máchis - GR
Mo'adon Krav - IL
파이트 클럽 - KR
Borilački klub - RS
Boytsovskiy klub - RU
Biytsivsʹkyy klub - UA

Country:
Germany
United States of America
Language:
English
Runtime: 02 hour 19 minutes
Budget: $63,000,000
Revenue: $100,853,753

Plot Keyword: based on novel or book, support group, dual identity, nihilism, fight, rage and hate, insomnia, dystopia, alter ego, cult film, split personality, quitting a job, dissociative identity disorder, graphic violence, self destructiveness

Pretty awesome movie. It shows what one crazy person can convince other crazy people to do. Everyone needs something to believe in. I recommend Jesus Christ, but they want Tyler Durden.
In my top 5 of all time favourite movies. Great story line and a movie you can watch over and over again.