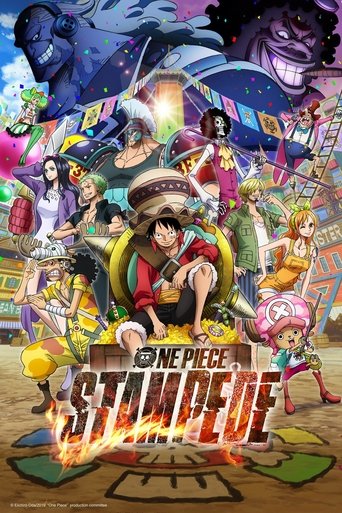 Rating: 7.3/10 by 101 users
One Piece: Stampede is a stand-alone film that celebrates the anime's 20th Anniversary and takes place outside the canon of the "One Piece" TV series. Monkey D. Luffy and his Straw Hat pirate crew are invited to a massive Pirate Festival that brings many of the most iconic characters from throughout the franchise to participate in competition with the Straw Hats to find Roger's treasure. It also pits the Straw Hats against a new enemy named Bullet, a former member of Roger's crew.
Directing:
Writing:
Stars:
Release Date: Fri, Aug 09, 2019

Rating: 7.3/10 by 101 users

Alternative Title:
海贼王:狂热行动 - CN
One Piece Estampida - ES
Gekijouban One Piece: Stampede - JP
원피스 14기-STAMPEDE - KR
원피스 14기-스탬피드 - KR
원피스 극장판 14기-스탬피드 - KR
원피스: 스탬피드 - KR
วันพีซ เดอะมูพวี่ แสตมปีด - TH
One Piece Movie 14: Stampede - US

Country:
Japan
Language:
日本語
Runtime: 01 hour 41 minutes
Budget: $0
Revenue: $0

Plot Keyword:

No review about this movie yet!