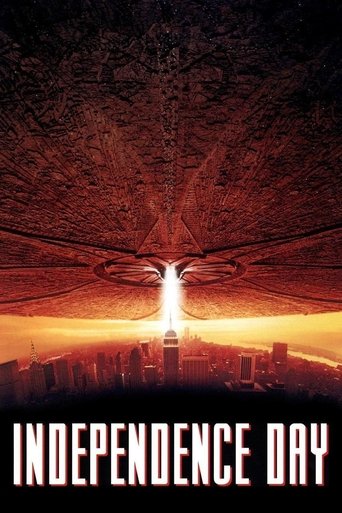 Rating: 6.8/10 by 7350 users
On July 2, a giant alien mothership enters orbit around Earth and deploys several dozen saucer-shaped 'destroyer' spacecraft that quickly lay waste to major cities around the planet. On July 3, the United States conducts a coordinated counterattack that fails. On July 4, a plan is devised to gain access to the interior of the alien mothership in space, in order to plant a nuclear missile.
Directing:
Roland Emmerich
Dean Devlin
Sergio Mimica-Gezzan
Kim H. Winther
Glen Trotiner
Michael Viglietta
Kevin LaRosa
Susan Bierbaum
Annie Welles
Marvel Wakefield
Dean Garvin
Bac DeLorme
Shari Nicotero
Writing:
Roland Emmerich
Dean Devlin
Stars:
Release Date: Tue, Jun 25, 1996

Rating: 6.8/10 by 7350 users

Alternative Title:
ID4 - US
Independence Day 3D - US
Independence Day 1 - DE

Country:
United States of America
Language:
English
Runtime: 02 hour 25 minutes
Budget: $75,000,000
Revenue: $817,400,891

Plot Keyword: showdown, spacecraft, patriotism, countdown, independence, invasion, ufo, extraterrestrial, alien, creature, battle, alien invasion, world domination, area 51, human vs alien, good versus evil

Really good watch, would watch again, and can recommend. It's Will Smith fighting invading aliens, and Jeff Goldblum being almost annoyingly smart. The alien aspect of the movie and the story are all great, but there is also a lot of humanizing scenes to keep the audience reminded of for what the Terrans are fighting. I'm sure there is a supercut version that reduces the movie to 45-60 minutes of good old alien fighting and investigation, but it's nothing that's actually worth skipping. If you're into alien invasion / apocalypse movies, then make sure you put this on your to watch list.