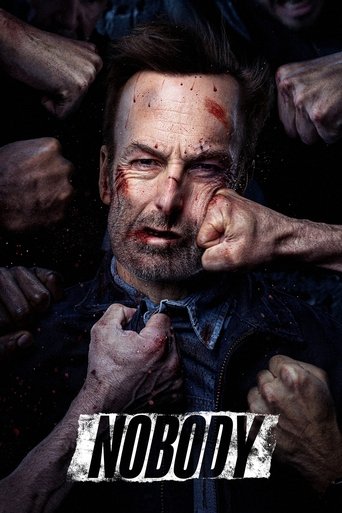 Rating: 8.4/10 by 1336 users
Hutch Mansell, a suburban dad, overlooked husband, nothing neighbor — a "nobody." When two thieves break into his home one night, Hutch's unknown long-simmering rage is ignited and propels him on a brutal path that will uncover dark secrets he fought to leave behind.
Directing:
Writing:
Stars:
Release Date: Fri, Mar 26, 2021

Rating: 8.4/10 by 1336 users

Alternative Title:
Хэн ч биш - MN
Никто - RU
Ніхто - UA
殺神NOBODY - HK
Никой - BG

Country:
United States of America
Language:
English
Pусский
Español
Runtime: 01 hour 32 minutes
Budget: $17,000,000
Revenue: $35,731,879

Plot Keyword: assassin, midlife crisis, russian mafia, thief, violence, home invasion, family, duringcreditsstinger, former fbi

Although writer Derek Kolstad (the 'John Wick' franchise) hasn't quite nailed it this time around - and the nitpicker in me took issue with a few plot lines - it's still a wild and crazy escapist romp that'll leave any action fan happy - myself included. Oh yeah, and Christopher Lloyd and RZA are in this too, kicking arse and taking names, if that helps. - Jess Fenton Read Jess' full article... https://www.maketheswitch.com.au/article/review-nobody-john-wicks-cousin-is-just-as-badass-but-with-more-laughs
Sometimes a story doesn't have to be sensible or original. It just has to deliver the goods - lots of guns, knuckle sandwiches, and explosions garnished with dry humour and melodrama. With Nobody, you got them all, plus a newfound action star. I watched this 2 in the morning and I had some good fun.