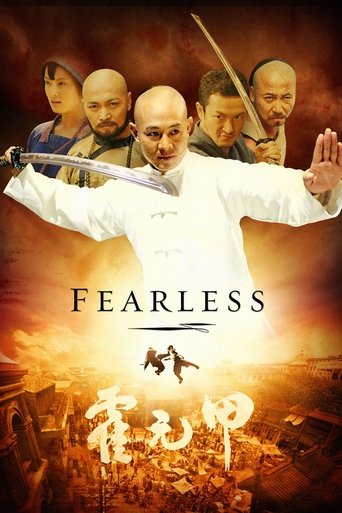 Rating: 7.4/10 by 738 users
Huo Yuan Jia became the most famous martial arts fighter in all of China at the turn of the 20th Century. Huo faced personal tragedy but ultimately fought his way out of darkness, defining the true spirit of martial arts and also inspiring his nation. The son of a great fighter who didn't wish for his child to follow in his footsteps, Huo resolves to teach himself how to fight - and win.
Directing:
Writing:
Stars:
Release Date: Thu, Jan 26, 2006

Rating: 7.4/10 by 738 users

Alternative Title:
O Mestre das Armas - BR
Huo Yuanjia - CN
Fearless - DE
Fearless - DK
Jet Li's Fearless - GB
Félelem nélkül - HU
무인 곽원갑 - KR
Fearless - US
Fearless Director's Cut - US

Country:
China
Hong Kong
United States of America
Language:
English
日本語
普通话
Runtime: 01 hour 43 minutes
Budget: $0
Revenue: $6,971,266

Plot Keyword: martial arts, kung fu, patriotism, blindness and impaired vision, sake, restaurant, shanghai, china, hope, tea, respect, exile, rice, beggar, friendship

No review about this movie yet!