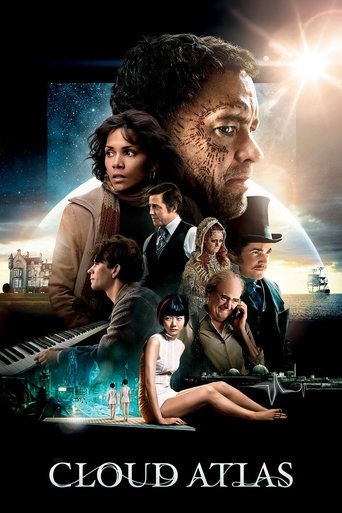 Rating: 6.8/10 by 5243 users
A set of six nested stories spanning time between the 19th century and a distant post-apocalyptic future. Cloud Atlas explores how the actions and consequences of individual lives impact one another throughout the past, the present and the future. Action, mystery and romance weave through the story as one soul is shaped from a killer into a hero and a single act of kindness ripples across centuries to inspire a revolution in the distant future. Based on the award winning novel by David Mitchell. Directed by Tom Tykwer and the Wachowskis.
Directing:
Tom Tykwer
Lilly Wachowski
Lana Wachowski
Terry Needham
Julie Brown
Caroline Veyssière
Rickie-Lee Roberts
Julie Heskin
Writing:
Tom Tykwer
Lilly Wachowski
Lana Wachowski
David Mitchell
Stars:
Release Date: Fri, Oct 26, 2012

Rating: 6.8/10 by 5243 users

Alternative Title:
Облакът Aтлас - BG
Atlas mraků - CZ
Cloud Atlas - Der Wolkenatlas - DE
クラウド アトラス - JP
클라우드 아틀라스 - KR
Cloud Atlas: La Red Invisible - MX
Atlas Chmur - PL

Country:
Germany
United States of America
Language:
English
Runtime: 02 hour 52 minutes
Budget: $102,000,000
Revenue: $130,482,868

Plot Keyword: clone, san francisco, california, future, dystopia, seoul, south korea, lgbt, ensemble cast, duringcreditsstinger, century, woman director, 1930s

Interesting film with an exceptional cast, fantastic performances and characterizations. The story, though, is a bit difficult to follow and, in the end, seems to not have a real point.
Cloud Atlas was a very well made movie but unlike most of the "simultaneous stories that all come together at the end" type of movies, this one just didn't. I'm still unclear as to the point of it all. Another issue I had was a general feeling of goofiness. Sure, the Cavendish story was pure comedy but the rest of the stories just didn't feel serious enough to me. It carried my attention for the 172 minutes well enough and it was entertaining. I just expected more of a pay off at the end. All in all, it's definitely worth seeing but I still haven't made up my mind if I truly liked it or not. What did you think?