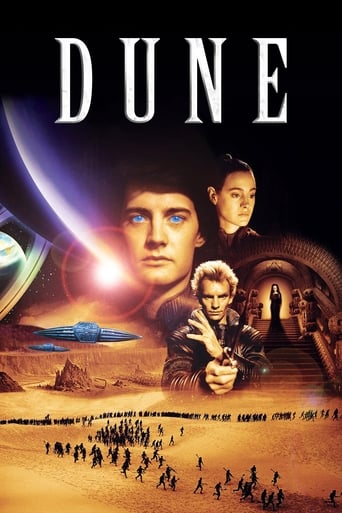 Rating: 6.3/10 by 1485 users
In the year 10,191, the world is at war for control of the desert planet Dune—the only place where the time-travel substance 'Spice' can be found. But when one leader gives up control, it's only so he can stage a coup with some unsavory characters.
Directing:
David Lynch
Yvonne Axeworthy
Writing:
David Lynch
Frank Herbert
Stars:
Release Date: Fri, Dec 14, 1984

Rating: 6.3/10 by 1485 users

Alternative Title:
Dune - AU
Дюн - BG
Duna - BR
Dune - Der Wüstenplanet - DE
Dune - ørkenplaneten - DK
Dune - ES
Dune - FR
Dune - GB
Dune - GR
Xolit - IL
ड्युन - IN
Dune - IT
砂の惑星 - JP
듄 - KR
Kopa - LT
Dunas - MX
Duin - NL
Dune - NZ
Duna - PE
Diuna - PL
Duna - PT
Dune - RO
Дина - RS
Дюна - RU
沙丘魔堡 - TW
Дюна - UA
Dune - US

Country:
United States of America
Language:
English
Italiano
Runtime: 02 hour 17 minutes
Budget: $40,000,000
Revenue: $30,925,690

Plot Keyword: prophecy, witch, monster, telepathy, atomic bomb, space marine, emperor, mutation, insurgence, space travel, guild, duke, chosen one, dystopia, jihad, spice, war, space opera, messiah, denunciation

No review about this movie yet!