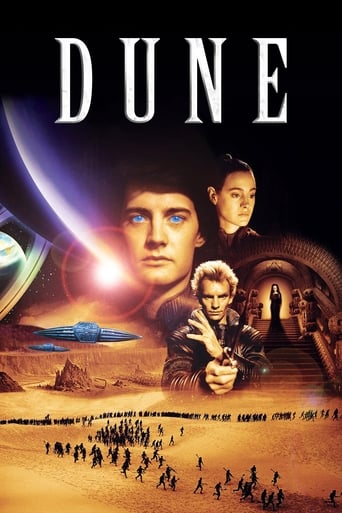 Rating: 6.206/10 by 2636 users
In the year 10,191, the world is at war for control of the desert planet Arrakis—the only place where the space-travel substance Melange 'Spice' can be found. But when one leader gives up control, it's only so he can stage a coup with some unsavory characters.
Directing:
David Lynch
Yvonne Axeworthy
Writing:
David Lynch
Frank Herbert
Stars:
Release Date: Fri, Dec 14, 1984

Rating: 6.206/10 by 2636 users

Alternative Title:
砂の惑星 - JP
Xolit - IL
Дина - RS
듄 - KR
Duna - AR
Dune - Der Wüstenplanet - DE
Dune - ES

Country:
United States of America
Language:
English
Runtime: 02 hour 17 minutes
Budget: $40,000,000
Revenue: $30,925,690

Plot Keyword: witch, empire, galaxy, rebellion, future, epic, space marine, army, monster, based on novel or book, prophecy, atomic bomb, mutation, telepathy, traitor, dystopia, emperor, insurgence, space travel, space war, spice, duke, chosen one, jihad, invasion, steampunk, conflict, execution, explosion, fictional war, drugs, desert, based on graphic novel, giant worm, space opera, future war, messiah, denunciation, lies

I know this one has a decent fanbase (both of the novel and movie) but as someone who never read the novel, this first viewing, I found it to be... okay. I can appreciate some of the effects both practical and visual (for its time) but the story and characters never really grabbed me. I was never bored however wasn't engaged and thought, and perhaps this is how it was with the novel), the main character played by Kyle McLaghlan didn't seem to face much conflict outside of a knife-to-knife fight at the end with Sting, which was anti-climactic and underwhelming considering he already got his revenge on his father's murderer. Not sure I have much interest in coming back to this but have some interest to see what Denis Villeneuve does with his adaptation. **3.0/5**
I read Frank Herbert's book, _Dune_, when I was in high school and really don't remember it much except that it was great and a little scary. At that age, I probably didn't get the subtext message. I never saw any movies of it so I decided to watch both the 1984 Dune by David Lynch and the 2021 Denis Villeneuve version sequentially. I review Lynch's version here and both versions in my 2021 Dune review. This may not be a popular opinion: Lynch's version (this one) is **brilliant** and the Villeneuve Dune is absolute **shit**. Here's why: Are the character's in David Lynch's version kitschy and over the top? Yes! That's one reason it's so much better! It's Sci Fi, duh! You watch Marvel movies and suspend disbelief for super powers? All of Lynch's characters are downright gritty and believable within this particular surreal fantasy. By the end of the Lynch Dune, I had sympathy for nearly every character in the film. Even the villains caught my emotions. Paul Atreides character development was realistic and attractive. But here's the clincher: the screenplay. David Lynch gave us a complete story. Sadly, he didn't have the final cut and disowned his film when the critics panned it. Despite the fact that Lynch is a true artist and genius, the studio took 45 minutes out of the film. 45 minutes! I would LOVE to see the original cut! Even ruined by the studio, even 40 years later, Lynch's film has a clear vision and carries the timeless message that Frank Herbert intended. I can't say that for the Villeneuve version. Do yourself a favor and see David Lynch's version.
**It deserves to be forgotten.** I don't read the book on which this film is based, I've never seen it for sale, I have doubts if it will exist in Portuguese bookstores. I'm not particularly fond of fiction set in space, but I recognize the quality when I see it. And I didn't see any quality in this film. The script is totally idiotic: we have an evil galactic empire (someone has been watching "Star Wars" too much), ruled by a tyrant (really original) and a war of resistance in which there is a hero fighting for democracy and freedom on a sandy and inhospitable planet. The problem is that this planet is the only one where it is possible to cultivate a kind of hallucinogenic drug that is vital in the economy and functioning of that empire. Films directed by David Lynch are not to everyone's taste, and although I liked what he did in other works ("Blue Velvet" and "Mulholland Dr." are, for me, the director's best works), I don't think he was cut out for making sci-fi movies. He has a very visual and stylized style as a director, and mixing that with special effects, a bizarre setting and an even stranger story was a bad marriage. I also have my doubts regarding the collaboration of Dino de Laurentiis… with very rare exceptions, I didn't really like the films in which this director was involved… at least the ones I've seen so far. Even so, I have no doubt that the potential of the project and the union of efforts of these two names allowed access to a good budget and attracted actors to the cast. However, Lynch doesn't seem comfortable with the material and, aside from some very visual scenes where his signature is present, he doesn't give us much more and isn't able to direct the cast in the best way. I think the director himself is aware of this. Moreover, the weak critical reception and the bad box office results helped to bury the project, which today is conveniently forgotten. The cast is, in general, quite weak, especially considering the budget involved and the names of the director and producers. Sting, the rock singer, appears in the project, but he's not an actor, and he never gives us a real interpretation: he just says what he needs and shows off. The scene where he appears almost without clothes is, to say the least, idiotic. Patrick Stewart and Max Von Sydow are totally out of the limelight and given minor characters in a movie where they could have possibly done more. Virginia Madsen is ineffective and doesn't convince us, Kyle MacLachlan was a casting mistake, and all other actors settle for mediocrity. The film has stylized cinematography and many gimmicks, which would have worked better if the film itself weren't already too unrealistic and imaginative. The visual and special effects don't always work well, and the sets and costumes are, to say the least, of questionable taste. The soundtrack is quite epic, but given the general lack of quality, it sounds too pompous for the movie that it is.