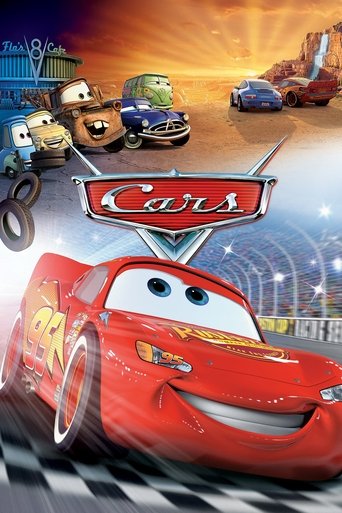 Rating: 6.8/10 by 9566 users
Lightning McQueen, a hotshot rookie race car driven to succeed, discovers that life is about the journey, not the finish line, when he finds himself unexpectedly detoured in the sleepy Route 66 town of Radiator Springs. On route across the country to the big Piston Cup Championship in California to compete against two seasoned pros, McQueen gets to know the town's offbeat characters.
Directing:
John Lasseter
Joe Ranft
Joe Ranft
Gregg Olsson
Robert Anderson
Mark Sanford
Bob Whitehill
Susan E. Levin
Sungyeon Joh
Sukwon Park
Gabriel Schlumberger
Evan Pontoriero
Cortney Armitage
Suny Behar
Writing:
John Lasseter
John Lasseter
Joe Ranft
Joe Ranft
Mark Nielsen
Dan Fogelman
Jorgen Klubien
Jorgen Klubien
Kiel Murray
Phil Lorin
Adrian Ochoa
David Skelly
Maxwell Brace IV
Matthew Luhn
Tom Sanocki
Stars:
Release Date: Thu, Jun 08, 2006

Rating: 6.8/10 by 9566 users

Alternative Title:
Carros - BR
Cars 1 - CH
Biler 1 - DK
Cars 1 - DK
Autod - EE
Cars - FR
反斗车王 - HK
Mashinha - IR
Bílar - IS
Cars 1 - Motori Ruggenti - IT
카 1 - KR
Disney Pixar Klassiker 7: Biler - NO
كارز - SA
Bilar 1 - SE
Avtomobili - SI
Cars 01 Cars - US
Cars 1 - US

Country:
United States of America
Language:
English
Italiano
日本語

Runtime: 01 hour 57 minutes
Budget: $120,000,000
Revenue: $461,983,149

Plot Keyword: car race, route 66, porsche, retirement, friendship, road trip, rural area, anthropomorphism, los angeles, california, car, aftercreditsstinger, duringcreditsstinger

No review about this movie yet!