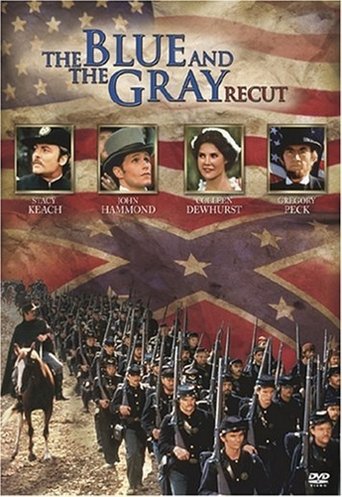 Rating: 8/10 by 11 users
The Blue and the Gray is a television miniseries that first aired on CBS in three installments on November 14, November 16, and November 17, 1982. Set during the American Civil War, the series starred John Hammond, Stacy Keach, Lloyd Bridges, and Gregory Peck as President Abraham Lincoln. It was executive produced by Larry White and Lou Reda, in association with Columbia Pictures Television, then owned by The Coca-Cola Company.
Release Date: Sun, Nov 14, 1982

Country: US
Language: En
Runtime: 480

Season 1:

Episode 1: Part One
(Nov 14, 1982)
A young John Geyser sets off from the family farm to work for his uncle at a local newspaper in Gettysburg as an artist correspondent shortly before the start of the American Civil War. John's artistic skill lands him working as an impartial observer were he covers the battle at Bull Run – the first major conflict of the war. During his travel, John meets and befriends Jonas Steele, a Union Officer who works for President Abraham Lincoln.

Episode 2: Part Two
(Nov 16, 1982)
The war continues with both sides suffering severe causalities. Lincoln issues his Emancipation Proclamation abolishing slavery although the north still has to win the war to enforce it. John Geyser grows closer to Kathy Reynolds against her father's wishes while Jonas Steele marries John's cousin. Later, John informs a band of hiding slaves of Lincoln's mandate.

Episode 3: Part Three
(Nov 17, 1982)
John meets with his Confederate brother during the siege of Vicksburg, then sneaks into town to supply food to his starving sister and son. Jonas Steele senses bad news and later discovers his misgivings. John returns home to ill feeling and his impartiality is tested. Jonas is wounded. The years of the war finally see an end. Lee surrenders and Lincoln is assassinated.