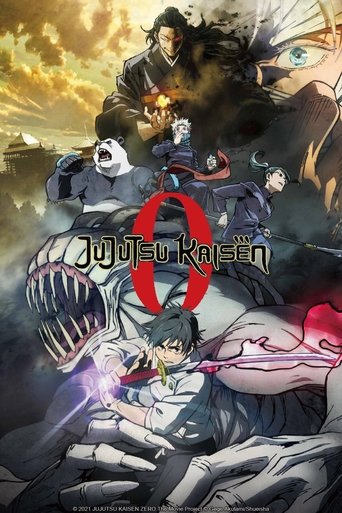 Rating: 7.8/10 by 139 users
Yuta Okkotsu is a nervous high school student who is suffering from a serious problem—his childhood friend Rika has turned into a curse and won't leave him alone. Since Rika is no ordinary curse, his plight is noticed by Satoru Gojo, a teacher at Jujutsu High, a school where fledgling exorcists learn how to combat curses. Gojo convinces Yuta to enroll, but can he learn enough in time to confront the curse that haunts him?
Directing:
Yosuke Takada
Miyuki Ooshiro
Sunghoo Park
Sunghoo Park
Yui Umemoto
Yui Umemoto
Masataka Akai
Writing:
Hiroshi Seko
Gege Akutami
Chica
Stars:
Release Date: Fri, Dec 24, 2021

Rating: 7.8/10 by 139 users

Alternative Title:
Gekijō-ban Jujutsu Kaisen 0 - JP
Gekijou-ban Jujutsu Kaisen 0 - JP
극장판 주술회전 0 - KR
Jujutsu Kaisen 0: The Movie - PR
呪術廻戦 0 - JP
Gekijō-ban Jujutsu Kaisen 0 - US
Jujutsu Kaisen 0 - US
JUJUTSU KAISEN 0: THE MOVIE - US
JUJUTSU KAISEN 0 the Movie - US
劇場版 咒術迴戰 0 - CN

Country:
Japan
Language:
日本語
Runtime: 01 hour 45 minutes
Budget: $0
Revenue: $144,000,000

Plot Keyword: exorcism, supernatural, horror, paranormal, curse, tragedy, based on manga, spirit, demon, school life, shounen, anime

The young Okkotsu has problem. When he is upset or annoyed, an huge demon manifests itself to exact revenge on whatever is hacking him off. He thinks the best solution is just to live in solitude, but a teacher at the eponymous High School thinks training is the answer. Together with three other students, he gradually begins to understand his powers and to a certain extent, control them. Snag in all this is that a former student at the academy has a grudge, is bent on revenge and is prepared to unleash demons galore against the young quartet and their mentor to ensure the destruction of the school and - of course- world domination. The story here is strong, the characterisations (especially the spellcaster Inumaki who must speak in noodle ingredients for fear that any other words could cause disaster) likewise, with active animations (great emphasis on the facial expressions) that build well to a fitting denouement. Unlike with so many iterations of this style of story, the combat scenes - though destructive - are not endlessly repetitive. There is tragedy and redemption, as we gradually begin to realise just what (whom) his menacing demon is. Didn't know anything much about this franchise, but I did enjoy this film.